Ain't it pretty?
About 7 months ago I gave you a tour of
Addie's nursery
. If you remember from that tour, there was a really ugly looking glider fabric that looked completely out of place in the room. See under the bags and the pillow? That's the ugly fabric that came with my Craiglisted chair. I was over looking at it. It was out of place and really ugly so I started looking at Pinterest to get a general idea how to cover the chair easily.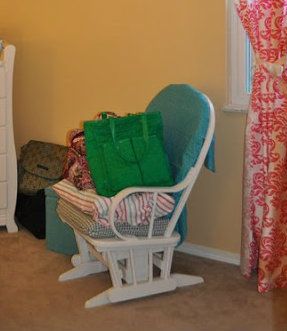 What I found in common with most of them is you want to use your cushions as your guide. Grab your fabric ugly side up and lay out the cushion on top. Trace around the cushion leaving 1-2" extra fabric around the sides and top. This part really just depends on your cushion and how thick it is. You'll want to leave about 2-3" on the bottom so you can fold over and put your snaps on. It's better to have too much fabric then not enough. Another tip is to make sure you use your first traced cushion cut out and trace another piece with that same piece. It'll help everything match up together when you sew.
Turn your fabric inside out (pretty sides facing each other) and pin all the way around leaving the bottom open so you can put your cushion in. Sew up your sides and the top and sew a clean hem in the bottom of your fabric (remember that extra 2-3"). Flip your piece right side out and inspect. You can use your snap fastener to attach your snaps where you'll want to slip the cushions in and out. I found
this tutorial
helpful when using the snap fastener kit.
And this is how pretty it looks now!
I love this fabric! I got it at Hobby Lobby for about $8/yard and it comes in this faded gray, blue, yellow, and green color or you can go for the bold version if you like it better. I bought 5 yards of fabric and probably only used 3.5 but buy extra just in case. It's such a great, durable fabric and it's gorgeous.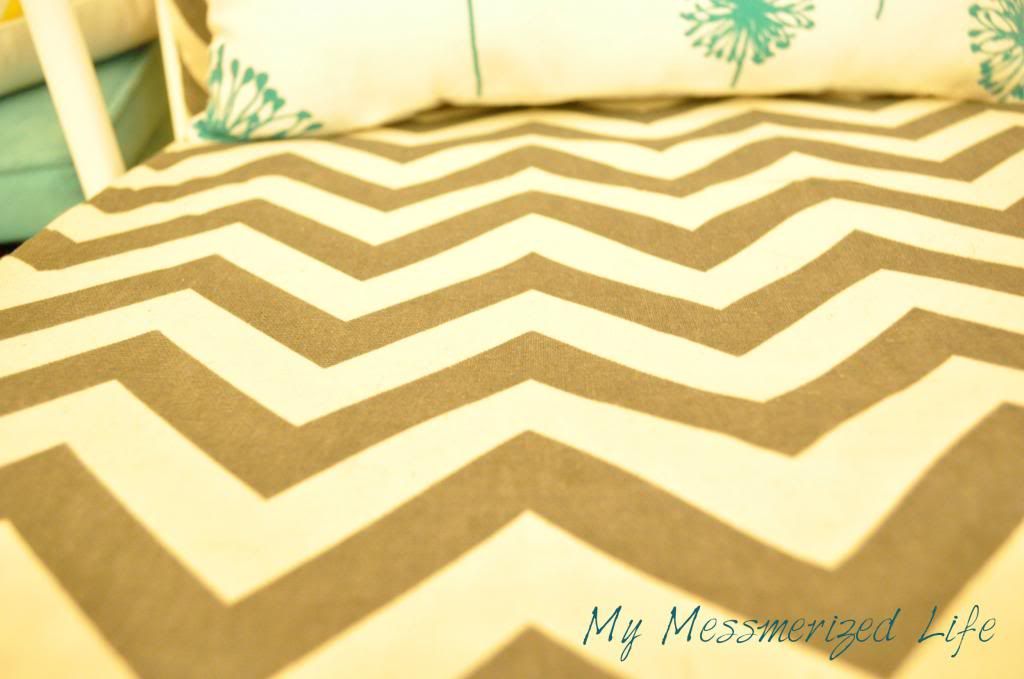 Are you working on any great projects? I've got a few I've been thinking about lately that I can't wait to get started on!
-stephanie