I'm co-hosting this weeks Toddle Along Tuesday and I can't be more excited. This week it's all about July 4th celebrations, traditions and photos. So make sure to check out Mama G's post over at
Growing Up Geeky
and link up your celebrations, traditions and photos!
Last week we all celebrated the 4th of July. The 3rd of July is a big day here in Columbus as the midwests largest fireworks display is put on right in downtown Columbus. We usually don't attend as hundreds of thousands of the cities finest and worst are all in attendance and crowds just aren't my thing. This year though, my parents invited us to a private party they attend nearly every year as my dad is a Columbus firefighter. The firefighters union hall puts on a private party for the firefighters and their family so we thought we'd try it out this year. It was hot, uncomfortable and really sweaty and experiencing that on top of a 17 month old who never wants to stop running around I didn't know if we would end up doing any celebrating.
It turned out great, the facility had air which was sweet relief. You see it's been over 100 degrees nearly every day this past week and with the recent storms we had just days before we weren't sure what the city would be like. After over a week since the storm hit there are still individuals without power.
There was even a bouncy house that we got footage of Addie enjoying.
She loved the fireworks. I wasn't sure how she'd do and I was preparing for her to be afraid of it.
The next day we went to a local parade, but we only made it about 15 minutes. It was too hot and we were all getting cranky. I did get a good photo (looking hot and tired) and a great video of Addie doing her thing as a marching band walked by.
We later made it to a friends cookout but thought we probably should get Addie to bed early since the night before was a late night. For us, we like to enjoy our 4th of July with family, friends, food, and fireworks. Oh and margaritas! But most of all, we like to enjoy it with a whole lot of patriotic music. I can't wait until she's old enough to play with a sparkler and write her name in the sky!
Don't forget to enter our Dermagist Complete Rejuvenation System
giveaway
.
-stephanie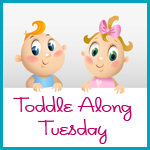 This week's Toddle Along Tuesday topic is July 4th! Share photos of what you did or talk about your traditions. There are no rules here, except that you link up a relevant post (old or new) rather than your whole blog.