One of my resolutions was to be more healthy, in fitness and in what I eat. So I've been pinning lots of skinny food and tried out a recipe for Skinny Taste Pasta with Bolognese Sauce that you can find
here
. It seemed rather simple so I went ahead and whipped it up one evening after work.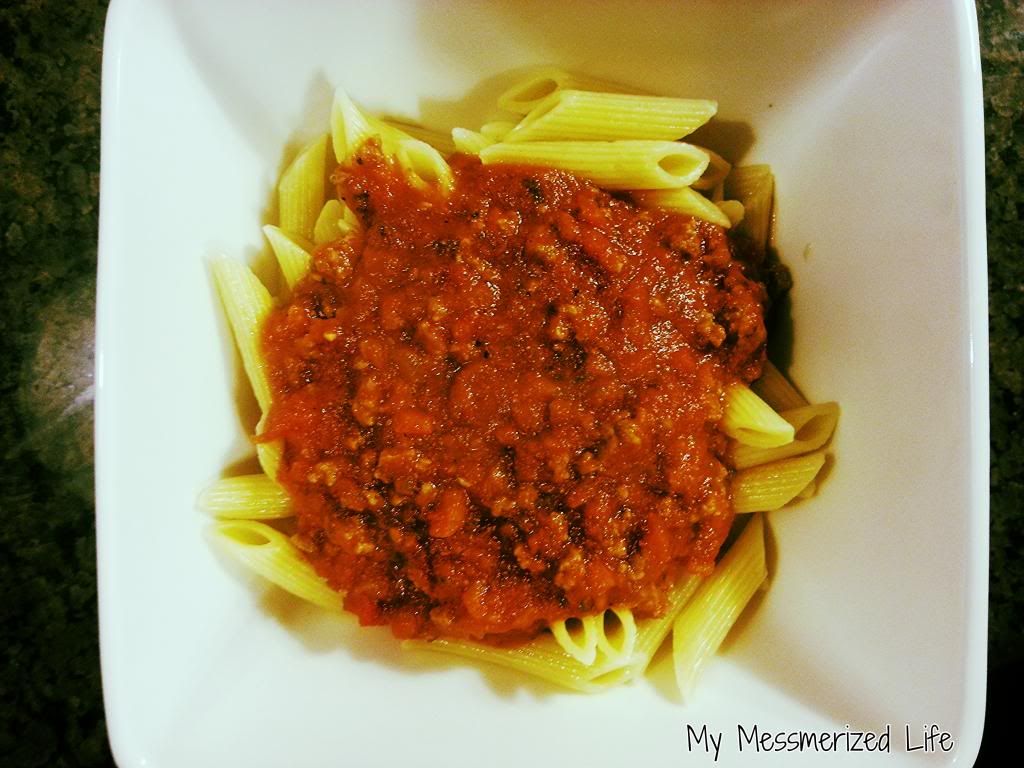 Ingredients:
4 oz pancetta or center cut bacon, chopped (I didn't have either of these so I used regular bacon)
1 tbsp butter
1 small onion, chopped
1/2 cup celery, minced
1/2 cup carrots, minced
1 lb ground lean meat (I used ground turkey)
1/4 cup white wine
2 - 28 oz cans crushed tomatoes
1 bay leaf (I omitted because I didn't have this)
salt & pepper
1/4 cup chopped parsley
1/2 cup half & half (I used whole milk)
Directions
In a deep saute pan, saute chopped pancetta/bacon until fat melts. Add butter, onions, celery and carrots and cook on medium-low heat until soft, about 5 minutes.
Increase heat to medium-high, add meat, season with salt & pepper and saute until browned. Add wine and cook until it reduces down, about 3-4 minutes. This is when the kitchen starts smelling like a winery!
Add tomatoes (and bay leaf if you'd like). Simmer covered on low at least 1 1/2 to 2 hours, stirring occasionally. Add milk & parsley, cook 2 minutes more.
Serve over your favorite pasta. We used penne.
This made enough for us to eat twice over so I froze half of the sauce for another night. So tasty, filling and easy on the hips!
-stephanie